Okay, I have to admit that as a Retro Fanboy, I also have a not-so-secret love of watches, always
have.  As a kid I loved wearing watches with Mickey Mouse with moving arms, a watch with a train that goes around the face and then in the early 80s I even had the nerdy Casio Calculator watch, Whoa! (I know Right!)  That was the original smartwatch for me.
So when my 2-year old Classic FitBit, which I wore on my opposite wrist, died just before the holidays I decided to see if I could retire my beautiful and brawny, 15-year old, non-stop running, Seiko self-winding watch and upgrade to a smartwatch that would do double duty (he said dooty) and be both a great time keeper but also a fitness tracker (lets be honest… by "my fitness" I mean "step tracker" and maybe a GPS to locate my lazy *ss when I sit down and give up on the hiking trail, that is the most fitness I track these days).
So of course Google was more than happy to send me all over the interwebs to read about smart watches including:
Apple Watch
Android Wear
LG Watch Sport
Samsung Gear
Garmin Vivoactive
Pebble 2
But I kept running into two problems that just kept me from buying any of them:
They were Square (or rectangle) and not shaped like a classic watch
– OR –
They were too pricey!
Key Features
Features that I think are critical in a smart watch have to include:
Classic watch looks (no iPhone shaped devices on my wrist)
Reasonable cost… big part of what makes it smart!
Easy to read in different lighting
Very comfortable to wear ALL day
Leather band or option to change to a leather band
Basic health and fitness tracking (minimum)
Easy charging (no more fitbit like things I have to pop out and in to charge)
What Watch Has All That?!?!
After many long nights reading blogs and reviews I stumbled into one of the fun corners of the internet, KickStarter.  There I found a writeup of the TicWatch 2, a fantastic looking watch with the kind of specs I wanted in a watch.  I watched the videos of the trendy Millenials running, biking and wearing haircuts that just don't work on my Retro-hair anymore.  But getting past the agism problems… I really liked the watch, at least in concept.
So after reading the TicWatch details over and over I decided this might just
be the watch for me.  After explaining this to my wife she decided it was such a good idea that we should buy everyone in the family one for Christmas… so that meant I couldn't open my watch before Christmas…. oh great.
So I hopped on Amazon and we found the $199 TicWatch 2 Charcoal watches for the whole family and the $249 Stainless Steel Oak version for myself.
Fast forward to Dec. 25th and I got to open the fancy box for my TicWatch and within minutes my new watch was finally on my wrist… with all the cool features I had been reading about and watching review videos for over 6 weeks.
TicWatch 2 Core Features
The TicWatch 2 has many cool features that you would expect, but what you don't expect is how well they work together, it is very smooth.  The watch runs on a customized version of Android called TicWear and the software team is very active, putting out updates every few weeks, with fixes and new features rolling out all the time.
The watch includes more features than I ever was looking for and more are added regularly.  Some of the most popular ones I use (or know about and plan to use) are:
Text Messages (read your text messages from your watch)
News and Phone App Messages (news alerts and social apps you approve can alert you)
Control your music on your phone or play it on your watch (not as cool as I would hope)
Measure your heartbeat and count your steps
Apps including phone dialer, calendar, health, fitness, weather, watch faces, stopwatch, voice recorder, timer, alarm and calculator
Speech Recognition and control (think Siri-lite for things like weather and jokes)
Bright high resolution OLED screen
GPS for tracking location for fitness apps
Wifi to download updates
Bluetooth to connect to your phone (Android or iPhone)
Dust and Splash proof (not full water proof, don't swim with it)
Other specs that they list on their website:
Screen: Round OLED display ;1.4 inch/ 36mm ;  287 ppi
Processor: 1.2GHz dual-core MT 2601
Memory: 512M RAM + 4G ROM
Battery: 300mAh
This is probably a good time to point out one of the key features that the TicWatch 2 is advertised to have, but I find to be kind of a gimmick, the "tickle strip" along the side. While it is different, and I give the TicWatch team credit for coming up with a new
interface paradigm, it just isn't that intuitive (I forget it is there all the time) because all the other devices I use all day are touch screens, so the touch screen is just fine for me.
Now with that complaint said, I do have to make a big complement to the charging of the TicWatch.  The totally cool USB-plug powered inductive charging "puck" is so simple, I just set the watch down on the puck next to my bed and it charges while I sleep… so friggin easy… everything should be that easy.
Minor Problem, maybe fixed?:  I connected mine to my iPhone 6 and the only early problems I had was the occasional Bluetooth connection between the phone and watch being dropped every few days.  It only required me to turn off and then on my Bluetooth on my phone and it came back, but after some recent updates on the watch I haven't noticed that problem again… maybe it's fixed, not sure yet.
Fun Features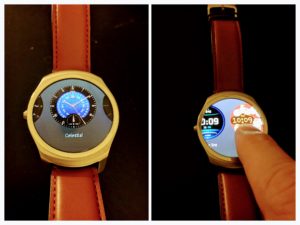 Ok, one of the fun things about a smart watch is the ability to customize it to your preferences, current activity or just your current emotions.  There are watch faces of all kinds to suit nearly anyone.  The faces can be fancy, reserved, bold, simple, goofy or just down right weird.  I love so many of them that I change the face two or three times a day as I go from place to place or event to event.  Meeting with the boss… classic watch…. Drinks with friends, bold and fun…. Coding at my computer… weird and funny!
To switch faces it is as simple as holding a finger down on the display for a couple of seconds at which time the current face shrinks backward to get in line with a list of other faces which you can now slide left or right to choose the next one.
Here are a few of the animated and very cool watch faces:
For the Star Wars nuts (yes I am that too…) there are 3 versions that are animated (with sounds!) of two different colored lightsabers!
For those looking for crazy and fun but very weird there are faces that are animated such as this moving eyeball… which moves faster if you tap the screen…
Missing Features
While the TicWatch 2 is awesome, it could always have more features that I would find even better, and with the number of updates they put out per month, some of these may just happen but for now here are things I wish it could do.
Full Water Proof to at least 12 feet (most pools) but 50 or 100 feet would be even nicer for vacation trips to the beach.
Respond to Texts from Watch with iPhone.  The Android features are currently more advanced than those of the iPhone users.
A weeks worth of Battery without turning off all cool the features… I am spoiled from my last watch that charged itself just by my normal body movements throughout the day. This watch lasts about a day with the features I like turned on.
Conclusions
So if you haven't noticed, I love this watch.  I have had it in use full time for two months so far and it has done great, nothing but the minor bluetooth issues early on.  The real test will be how well it holds up to daily wear and tear of use as I wear my watches full time so we will see if the case, glass front and electronics hold up.
So if you are interested in the TicWatch, check them out on Amazon where they currently sell all four models, the Charcoal, Snow, Oak and Onyx.
Now, time to switch to my next favorite watch face and write some code!